Australian Summer of Tennis 2023 Schedule
Tennis Australia has announced all of the tournaments and dates leading up to the Australian Open in 2023.
The United Cup kicked off the international season on December 29 and finished on January 8. The mixed team competition will include eighteen countries and will begin in Brisbane, travel to Perth and Sydney, and conclude in Sydney.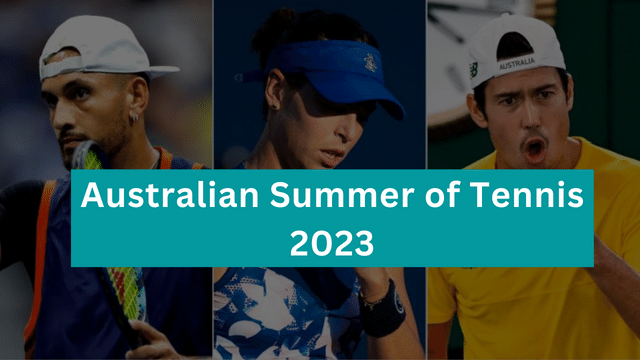 Full Australian Summer of Tennis 2023 Schedule
| Date | Event | Location |
| --- | --- | --- |
| Dec 29 – Jan 4 | United Cup group stage | Brisbane, Perth and Sydney |
| Jan 1 – Jan 8 | Adelaide International 1 | Adelaide |
| Jan 1 – Jan 8 | Canberra International | Canberra |
| Jan 6 – Jan 8 | United Cup final four | Sydney |
| Jan 9 – Jan 14 | Adelaide International 2 | Adelaide |
| Jan 9 – Jan 12 | Aus Open qualifying | Melbourne |
| Jan 9 – Jan 14 | Hobart International | Hobart |
| Jan 10 – Jan 14 | Victorian Wheelchair Tennis Open | Melbourne |
| Jan 13 – Jan 18 | Traralgon Juniors | Traralgon |
| Jan 16 – Jan 20 | Melbourne Wheelchair Open | Melbourne |
| Jan 16 – Jan 29 | Australian Open | Melbourne |
Despite the absence of 20-time grand slam winner Roger Federer, Switzerland won the most recent Hopman Cup, which is similar to the United Cup.
Adelaide will host two big tennis competitions in January: the WTA 500 and the ATP 250.
Ash Barty won the WTA 500 Adelaide International in 2022, advancing to the Australian Open. Despite experiencing foot problems, Gael Monfils won his eighth solo title.
Andy Murray, Jannik Snner, and Novak Djokovic are all returning to Australia for this event. Victoria Azarenka is taking part in two women's competitions in Adelaide.
Thanasi Kokkinakis won the second Adelaide International in his hometown. Madison Keys had a successful 2019 in Adelaide, South Australia.
Petra Kvitova presently leads the women's standings, and Kokkinakis will defend his title.
The Hobart International WTA 250 will conclude with the 2021 tournament. This year's Wimbledon champion was Elena Rybakina. She defeated Zhang Shuai in the final match.
Sofia Kenin is the tournament's first confirmed participant. This comes after a difficult few years.
The 2019 Australian Open qualifying round begins on January 9 and concludes on January 16.
Ash Barty's statement in March that she was leaving the sport caught everyone off guard. Rafael Nadal will compete in Melbourne seeking a third Grand Slam championship. This will be his first match following an incredible comeback victory against Daniil Medvedev.
The United Cup kicks off Australia's "tennis season." The ATP and WTA competitions will be contested in Brisbane, Perth, and Sydney from December 29 to January 8.
The last four rounds will be place from January 6 to 8 at the Ken Rosewall Arena in Sydney, Australia.
At the Adelaide International, two events begin at the same time. The Adelaide International 1 will have a WTA 500 and an ATP 250 tennis competition from January 1-8, 2019.
The men's and women's championships will be contested on January 28.
There will also be junior championships and wheelchair tournaments throughout the "summer of tennis."
The Australian Open will include the same amount of tennis as entertainment in 2019.
Tennis Australia believes the competition on January 16 will be the largest and most entertaining the country has ever seen.
Over the course of two weeks, organizers anticipate that over 900,000 people will attend. This would surpass the previous high of almost 812,000 viewers established in 2020 and move the competition closer to its target of 1 million viewers.
Novak Djokovic is scheduled to return to the Open in 2019 after serving a one-year ban for refusing to receive the COVID vaccination.
Tennis Australia CEO Craig Tiley believes that a two-story Beach Bar with DJs, tennis courts, and padel courts would make the Open seem more like a festival.
The amount of musical performers at the children's entertainment park AO Ballpark would increase as the park grew in size.
Tiley debuted the outfits that the 4,000 Australian Open employees would wear on Monday.
Also Check: Australian Open 2023 live stream